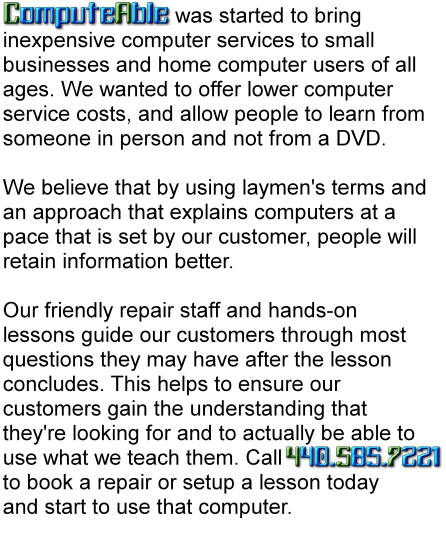 ComputeAble provides one-on-one personalized computer lessons that are conducted either in your home, at a local community center or even at a local library or restaurant. Our lessons cater to all age groups and needs, be it preschoolers, students, adults, professionals or seniors, you'll find lesson(s) that will suit your needs and enrich your computing experience.

Our sessions are conducted in a very flexible and comfortable way. You select only what interests you or the subject you'd like to learn about. We don't sell you what you do not need. As everyone of us learn differently and at a different pace, we'll customize your lesson according to your style, interests and pace. This will ensure that you learn more effectively and efficiently. For faster learners, you can shorten the time needed to learn a new computer skill, for newer users, you can take your time and gain a thorough understanding so you can use what we teach you. With all these advantages, ComputeAble Computer Services is the obvious choice for learning computer skills.

Now Computer Service for small business and people at reasonable prices, especially if you:
● Are new to computers
● Are unable to or it's inconvenient to attend a computer class
● Prefer personal coaching
● Worry that your unable to follow at the speed of a group computer class
● Are nervous about computers
● Want to learn how to use your home computer and the software that's installed in it
● Are being driven crazy computer?
● Are having problems getting your computer to do what you want it too?
● Are sick to death of all the tech talk and mystifying tutorials talking down to you with techie words like byte and bit, activeX and other lingo and mumbo jumbo?
● Wouldn't like to know how to make your computer do exactly what you want it to?
● Need your computer to stop acting like it has a mind of its own, and just let you enjoy yourself for a change?
● Would love to know how to use those super fantastic programs without painfully struggling through complicated help files and technical tutorials, before giving up in frustration?
● Would like to use the Internet without fear of getting lost or confused?
● Want to confidently send email in a snap?
● Have a new computer and just don't know where to start?
● Noticed your old computer has lost the zip it used to have?
● Have a problem with pop-ups, viruses, spyware, adware, or malware?
● Have files and folders that are getting way too messy, large or lost?
● Own a small business in the Lake County area and want your own website but thought it was too expensive?
● Have an existing website and need help? maintaining it, or getting better search engine results?
● Live in the Lake County area and are in need of computer help PERIOD?

We're here to help with all of these needs. You can be taught to do many productive and useful things on a computer, it's just that you haven't been shown how to yet. That's were ComputeAble comes in, we provide hands on, one on one, plain English computer lessons and repairs. We also build relationships with our customers so we're there when they need us.

Take a peek at our lessons page for a list of the many different computer subjects offered by ComputeAble.

We can be available 24 hours a day, 7 days a week, if needed but our standard hours of operation are Monday – Friday from 09:00 a.m. - 09:00 p.m. and Saturday – Sunday from 10:00 a.m. - 08:00 p.m. Most often we schedule appointments but we can also help you immediately in an emergency. Our office is located in Wickliffe but we travel anywhere in the Lake County area.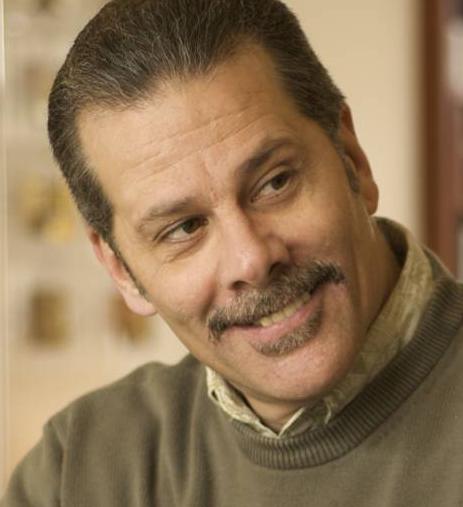 Chuck Caputo, the founder of

has been an Information Technology Trainer and Manager for the past 23 years and is an expert at many technologies and has been exposed to many different training and learning techniques. After attending many computer seminars that were too technically oriented for most of the audience, he noticed the attendees couldn't reference what they had just learned, only moments ago due to the acronyms, abbreviations, "buzz words and complexity. Chuck has developed computer lessons and services that are explained "in plain English", "blue collar" terminology using strait forward language and not a bunch of computer gibberish.

Over 23 years of Information technology experience, Including training in information technology, regulatory compliance, contingency planning and risk management seminars. In Chuck's professional management and training career he has met or exceeded budgetary, schedule, regulatory and corporate objectives consistently and repeatedly. He has developed and conducted many classes, seminars and speaking engagements throughout Ohio